Cheniere predicts first return for shareholders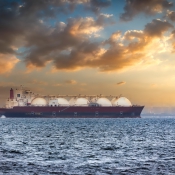 Cheniere predicts first return for shareholders
US LNG company Cheniere Energy announced on September 7 that its board of directors supported a long-term capital allocation plan aimed at returning capital to its shareholders.
Cheniere operates the Sabine Pass LNG export terminals in Louisiana and Corpus Christi in Texas, with a production capacity of approximately 45 million tonnes / year of LNG in operation or under construction.
The company said it expects the results for the year 2021 to live up to its expectations. It is now forecasting an annual debt repayment of about $ 1 billion and is looking at a quarterly dividend of about $ 0.33 / share payable in November, a first. Dividends could rise at the "mid single-digit" rate, the company added.
"Over the past five years, we have successfully achieved our operational, commercial and financial objectives, which now serve as the foundation for this comprehensive capital allocation plan for Cheniere stakeholders," said Jack Fusco, CEO of Cheniere.
Part of his plan, meanwhile, is to move a third phase of operations in Corpus Christi, which has been described as a 10 mt / year "plug and play" project, to an investment decision. final in 2022. Train 6 at Sabine Pass is expected to complete by the first half of next year.
About 85% of the total revenue of $ 1.9 billion in the three months ending June 30 came from LNG, Cheniere said. Total revenue improved by 28% compared to the same period last year. EBITDA, however, was down 18% from the $ 846 million posted in the second quarter of 2020.