Firstcash stock: slow recovery in Latin America and uncertainties (NASDAQ: FCFS)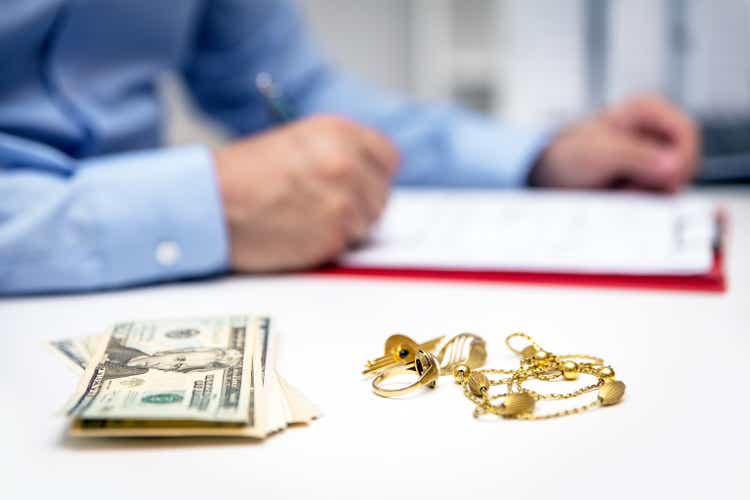 It's been a while since I've covered PremierCash (FCFS), and quite a bit has happened since then, including (finally) evidence of a strong recovery in the U.S. pawnshop market, a more disappointing and slow recovery in Mexico, and a major acquisition (American First Finance, or AFF) and entry into new markets (hire purchase and other credit products).
To be honest, I'm not at all sold on the AFF contract. I can see the appeal, but I think the capital could have been used to expand Latin American pawnshop operations into countries like Colombia and Peru. That said, it offers another potential source of growth and cash and diversifies the business somewhat (only "somewhat" given a similar customer base).
FirstCash shares are down slightly since my last update, and at this point I believe the shares are valued to deliver an attractive double-digit annualized total return over the long term. That said, I think the street might need some time to warm up to AFF and similarly may want to see signs of a stronger recovery in Mexico before really bidding on the stock again.
Healthy underlying results in a confused quarter
Due to the inclusion of quite a bit of AFF revenue and profit in the results, FirstCash's results are very difficult to compare to past average sell-side estimates. Where there are comparisons to be made, FirstCash's underlying performance in the pawnshop business was somewhat better than expected, although it was certainly mixed between the US and Latin American operations. .
Revenue increased 28% in the quarter, with retail revenue increasing 28% and pledge fee revenue increasing 13%. Scrap revenue fell 40% as AFF made its partial debut in the quarter, contributing $34 million of adjusted $502 million in less than a month of FirstCash ownership.
Retail sales exceeded expectations by approximately 13%, helped by continued strong performance in the US, where total sales increased 29% and 24% same-store. In Latin America, growth was also quite strong, at 26% overall and 24% like-for-like (both at constant exchange rates). While retail margins ease from record highs, they remain higher for longer than expected, with the US margin down about two points to 43.1% and LatAm down two points to 36%.
Base pledge fee revenue was up 13%, lacking around 7%. US fees increased 15% overall and 10% on a comparable basis, while Latin America fees increased 12% overall and 11% on a comparable basis. I feel like most analysts were expecting stronger results from LatAm (I was in my model…), but pawn demand is lagging due to a combination of a rally less dramatic in Mexico and a significant increase in remittances to Mexico from the United States.
Honestly, what worries me the most is the rate at which pawnbroking is growing, because that ultimately drives the pawning fees. The US remains strong, growing 13% like-for-like, but LatAm only grew 6%.
In terms of segment earnings before tax, the U.S. pawnshop business grew 43%, with margin up 330 basis points to 23.9%, while the Pawnbroking in Latin America grew 20%, with margin up about one point to 21.7%. AFF debuted with an adjusted margin of 17.3%.
Demand for pledges should continue to recover, but Mexico is a concern
I'm relatively optimistic about the short-term outlook for US pawnbroking demand. While the employment situation is robust, inflation could help stimulate demand if and when wages do not keep pace. Also, given changes to tax items such as Child Tax Credit, I believe the negative impact on FirstCash may be less this year with customers/potential customers getting lower than expected refunds due to modification of these credits.
In LatAm operations, I'm still optimistic about the prospects for recovery in Mexico, but the recovery has been slow so far and this year's election could create some turbulence. While overall pawn balances aren't all that troubling compared to pre-pandemic levels, there's certainly been a downturn here, and FirstCash really needs to restore the growth benchmarks of LatAm operations (Mexican operations, namely ) – especially since I think some bears will say that the purchase of AFF was done to mask/offset the expected weaker growth of the LatAm pawn in the coming years.
AFF makes sense, but comes with new risks
The purchase of AFF gives FirstCash a digital-enabled consumer finance business focused primarily on rent-to-own (similar in some ways to rent-to-own operations like Rent-A-Center (RCII)), retail installment financing and bank lending to similar customers (i.e. customers who do not have easy access to traditional sources of credit).
Paying around 10x forward EBITDA for a company with strong EBITDA margins in the mid-teens isn't too bad, but AFF comes with risks. First, although AFF's operations are not covered by the CFPB, they are regulated at the state level, which brings back some risks to the history the company left behind when it left. payday loans.
Second, it's a different type of business and one that still involves risk, even if existing operations are largely left in place. FirstCash have amply demonstrated over the years that they understand the pawnshop business, but it remains to be seen how they fare in the point-of-sale finance space, especially with this space attracting far more lending. attention and competitive entry lately.
Cost synergies won't be a real factor here, but there could be operational synergies later. Goods turned over from AFF's leasing operations can go to FirstCash pawnshops, expanding their assortment, and AFF's financing services can be used to finance in-store retail purchases at FirstCash stores, potentially opening the door to selling more expensive items to a wider audience. customer base.
I also like that AFF uses a capital-light model – AFF does not own or stock stores, but instead partners with merchants to offer their services. I know a significant portion of AFF's business is furniture-based (and they do business with 10 of the top 50 furniture retailers), but entering my old zip codes into their merchant partner database does appear many jewelry stores and car service shops. , so I like the angle here of AFF financing services like auto repairs.
Perspectives
Adding AFF into the model certainly increases model risk, but the company should see roughly similar overall demand trends as FirstCash. Given the volume of new entrants into POS financing, I'm hesitant to assume that AFF will significantly increase FirstCash's long-term organic growth rate, but it at least broadens the base of the business. At the same time, however, I admit to being more concerned about the growth trajectory of LatAm operations and why management is not investing more capital in growing geographies like Colombia and Peru.
I'm modeling long-term revenue growth of around 7% using my 2021 estimate as a starting point (to neutralize the inorganic boost from AFF). I have reduced my longer-term margin assumptions slightly, mainly due to concerns about LatAm and conservatism with my initial expectations for the AFF business. Even so, I'm looking for long-term adjusted FCF margins in the low double digits and growth in the high single digits. I also increased my discount rate to account for higher risk – more debt, slower growth in Latin America, and the risks of entering a new line of business.
The essential
I like the outlook for a strong recovery in the core pawnbroking business, including the possibility of higher retail margins for longer, and while I'm more concerned about LatAm operations, I still view them as an engine of growth. With AFF, I would describe my feelings as more "optimistic with caution"; management gained the benefit of the doubt, but I will need to see evidence that this was a better use of capital than expanding ex-Mexico LatAm pawn operations. Running my new estimates through my valuation model, I still get a significantly higher fair value than today's price, and I believe FirstCash is priced for double-digit long-term annualized returns.