In a rapidly changing industry, bank executives must redefine "underbanked"
In the future, everyone will be underbanked.
This may seem surprising given that the proportion of unbanked and underbanked adults in the United States has remained relatively stable over the past year. But these data points don't show the full picture.
With more non-bank providers offering new ways to make payments and transfer money, and the use of non-bank financial services continues to grow, banks are becoming less central to consumers' financial lives. . These factors call for a more critical examination of what it means to be underbanked – and perhaps even abandon the term altogether – if banks are to continue to remain their customers' primary financial service providers.
Nearly 1 in 6 U.S. households are underbanked, roughly equal to the share who said the same last summer
In July 2022, about 16% of American adults report that their household is underbanked, defined as having a bank or credit union account but also using one of three alternative financial services – check cashing, money order or bill payment – this month. Another 8% of households are unbanked, meaning they report that no one in their household has a checking or savings account with a bank or credit union. The remaining 76% are fully banked: at least one member of their household has a checking or savings account, and they have not used an alternative financial service in the past month.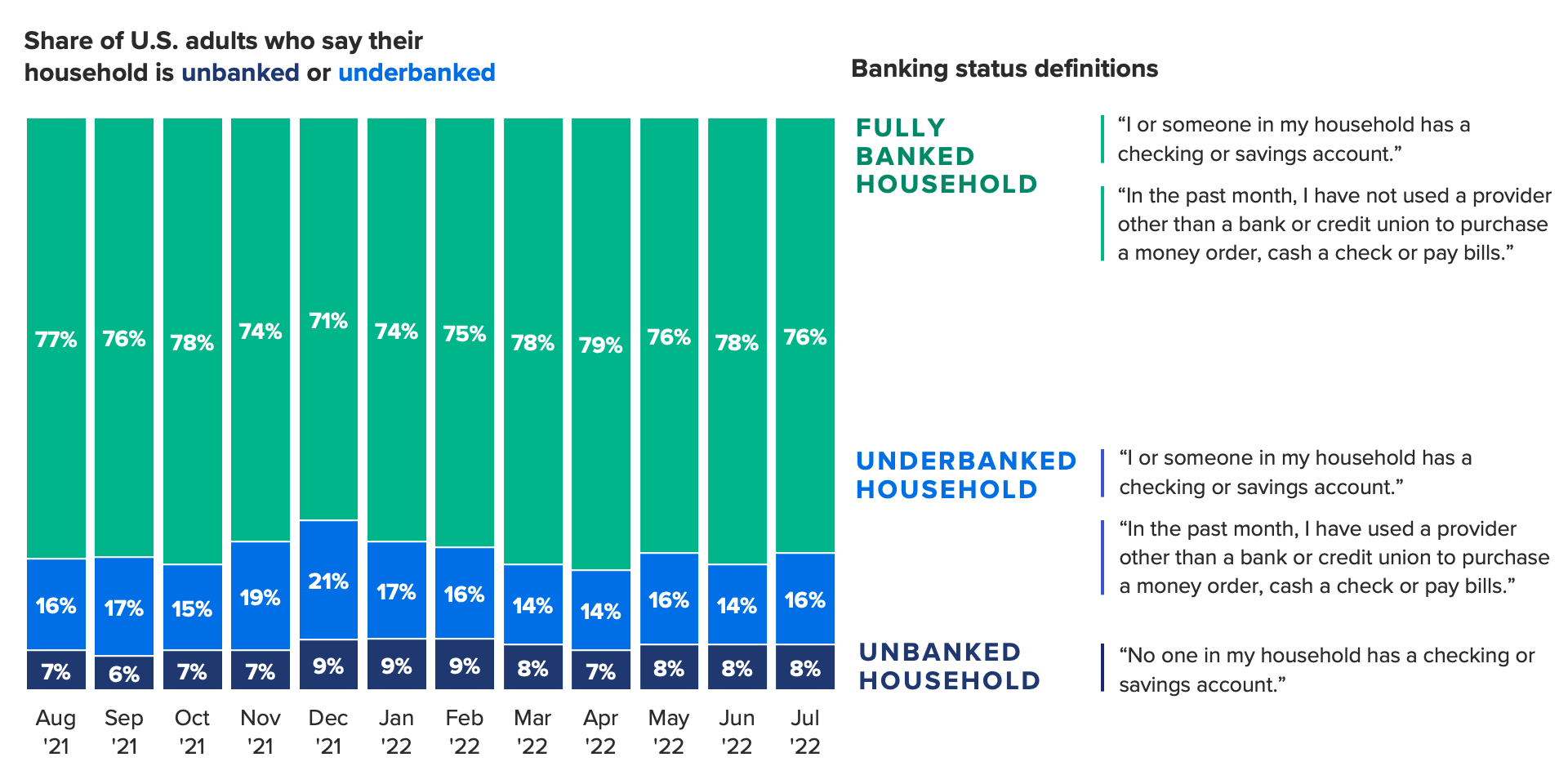 Survey conducted monthly with a representative sample of approximately 2,200 or 4,400 US adults, with an unweighted margin of error of up to +/-2 percentage points. Figures may not total 100% due to rounding.
The long-standing assumption in the financial services industry is that consumers would not choose to use services that label them underbanked – cashing checks, buying money orders, or paying bills through nonbank providers. – if they had a banking relationship that provided such services. It is also widely accepted that these services exclusively target low-income adults. But an examination of the demographic composition of fully banked versus underbanked adults does not support this theory.
Banking status of American adults by demographic group, July 2022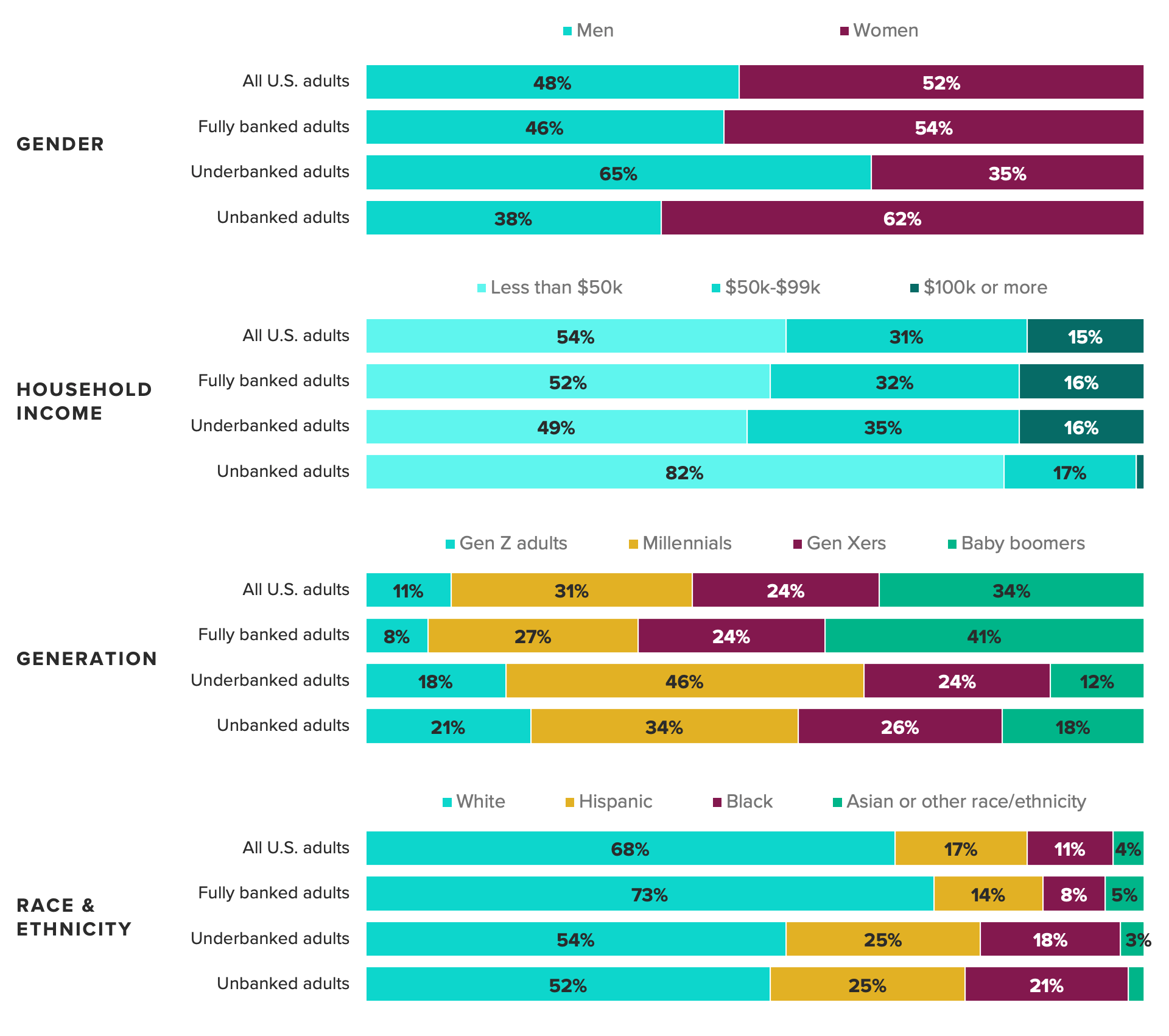 Survey conducted monthly with a representative sample of approximately 2,200 or 4,400 US adults, with an unweighted margin of error of up to +/-2 percentage points. Figures may not total 100% due to rounding.
While underbanked adults differ from their fully banked peers in some important respects, income is not one of them. Underbanked adults skew male and younger, and they tend to be more ethnically diverse than fully banked adults. But they are very similar to their fully banked peers when it comes to income: 49% of underbanked adults have an annual household income of less than US$50,000, only 3 points difference from fully banked adults and 5 points lower than fully banked adults. less than the general population.
Across all income brackets, underbanked adults choose to step out of their banking relationships to access and move their money when and how they need it. Beyond alternative financial services that define them as underbanked, these adults are more likely to use digital wallets than the general population (89% vs. 64%), to have made a purchase using "buy now, pay later" in the past year. (54% vs. 26%), and to report that they or someone in their household owns a cryptocurrency (45% vs. 19%).
Far from being underbanked, these adults are simply taking advantage of the wide range of financial services innovations that have evolved over the past decade. There is no reason to believe that this group will shrink either. In the future, everyone will be underbanked in one way or another, but by choice, relying only on alternative non-bank service providers to manage their financial lives.
Consumer adoption of non-bank financial services has grown and will continue to do so
The past decade and a half has ushered in incredible innovations in payments, lending, and even the nature of money in the form of peer-to-peer payments, digital wallets, BNPL services, and cryptocurrency, for n to name a few – all consumers. eagerly adopted.
According Morning Consult Brand Intelligence, and they show no signs of slowing down. These providers offer a superior payment experience to banks, and they have achieved such scale that consumers will be reluctant to abandon them.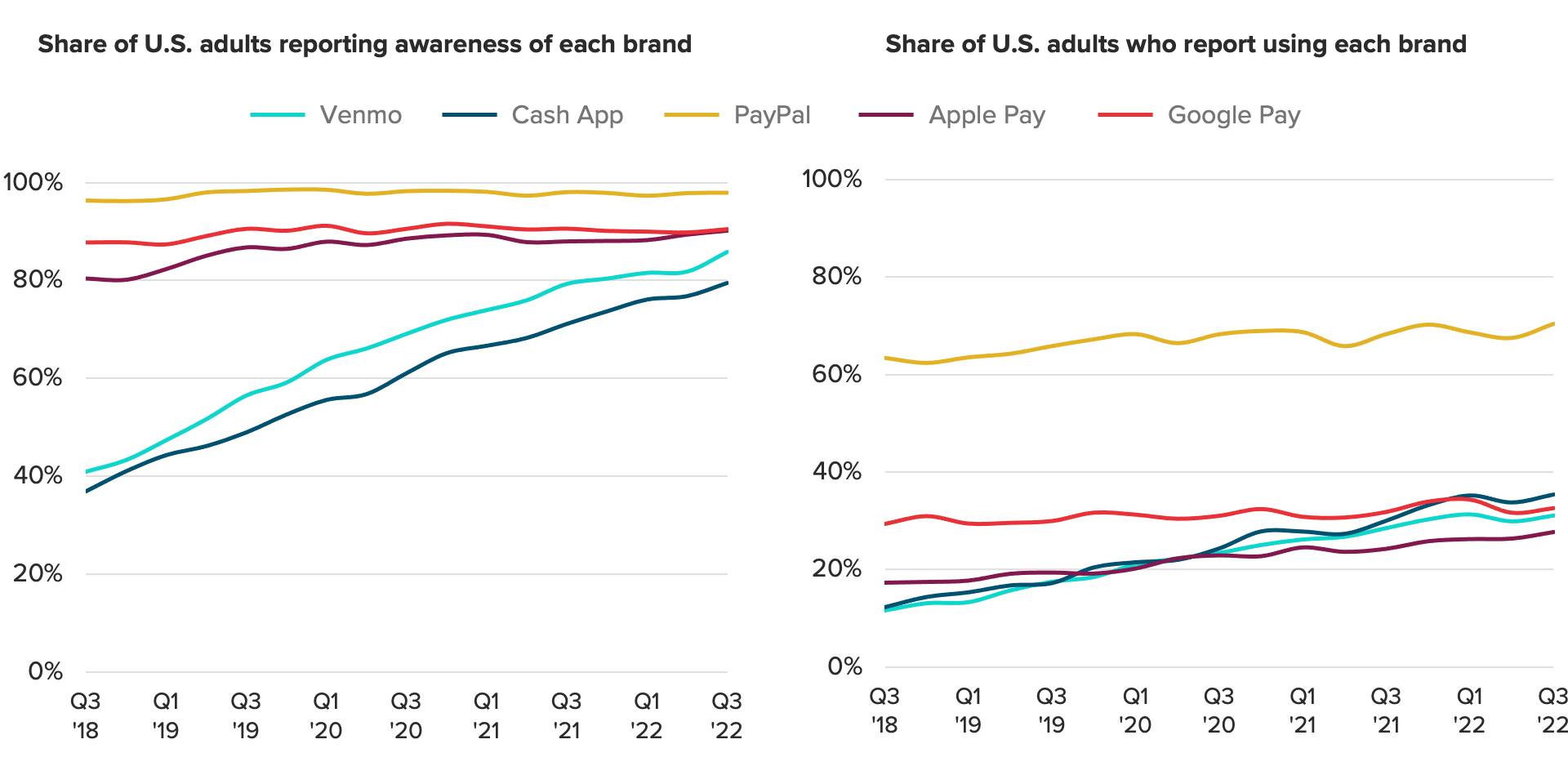 Source: Morning Consult Brand Intelligence (Q3 2022 data collected as of July 28, 2022)
BNPL has also made its way into consumers' wallets in recent years as a go-to method of financing purchases: the share of adults reporting having used a BNPL service at least once in the past month has not fallen below 14% in the past year.
Cryptocurrency adoption has shown signs of plateauing in the United States recently, but consumers are still attached to it, even as they prepare to hibernate through a "crypto winter." And while most crypto owners view their digital assets as more of an investment than a means of payment, a large portion – 34% – say they use it to send or receive payments at least some of the time. The high adoption of crypto by underbanked adults is further evidence that they are looking high and low for better ways to make payments and access their money.
For each of these innovations – digital wallets, peer-to-peer payment apps, BNPL services and cryptocurrency – it is the younger generations of American adults who have embraced them with the greatest enthusiasm, offering insightful insight into the future of consumer financial management – one characterized by multiple vendors, each catering to specific consumer needs, rather than a single vendor to cover them all.
Moreover, although financing for fintechs and financing of payment services specifically, is down from its pandemic highs, this should not suggest that fintech innovation is cooling off. The billions of dollars invested in the industry over the past few years will continue to pay off over the next decade. Even if the current economic conditions deteriorate, this is not a sufficient reason to think that financial innovation will stagnate; in fact, the last recession saw a fintech boom.
In August alone, two powerful fintechs, Plaid and Wise, announced a Partnership which will allow Wise users to access thousands of other fintechs even if they don't have a bank account. Government regulation is also moving, albeit slowly, towards greater acceptance of fintech. This month, the Federal Reserve released clearer guidelines to find out how non-bank institutions can access Federal Reserve main accounts.
With all of these non-banking financial services successfully integrating into consumers' financial lives, it's amazing that more American adults aren't underbanked — at least, in the commonly accepted sense of the term.
Being "underbanked" is everything in the definition, and the current one is obsolete
More than ever, consumers can manage their financial lives without the help of a bank, which means the term "underbanked" is quickly becoming obsolete.
The FDIC started data release on unbanked and underbanked households in 2009, after the Great Recession fundamentally undermined consumer confidence in banking, in an effort to maintain public confidence in the US financial system. The Federal Reserve Board issued a similar study on economic stability and the well-being of US households since 2013. The two fiscal policy authorities' definitions of "underbanked" differ slightly, but neither provides a comprehensive view of the nonbank financial services available to consumers.
To view underbanked adults not as underserved but as serving themselves, it's important to break down what it means to be underbanked – and for brands to articulate their own definition that helps them better understand their customers. and prospects.
If, for example, only those with family bank accounts and occasional use of money orders were considered underbanked, then 8% of the US adult population would fall under this definition. But this is obviously an incomplete picture, as there are many more alternative financial services than just money orders.
Proportion of U.S. adults who qualify as underbanked, by alternative financial services included in the definition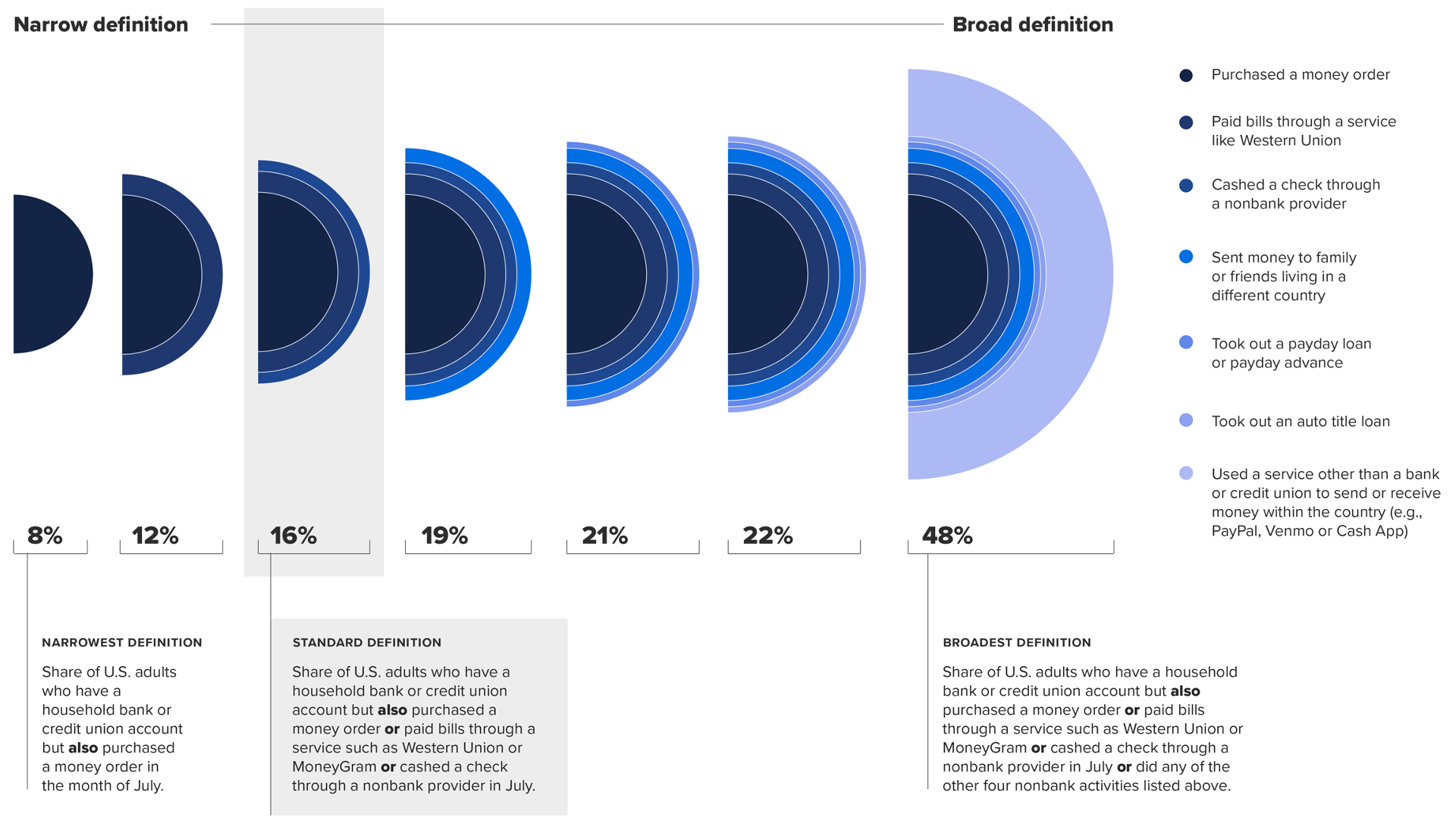 Survey conducted monthly with a representative sample of approximately 2,200 or 4,400 US adults, with an unweighted margin of error of up to +/-2 percentage points.
If you were to include in the definition of "underbanked" anyone with a bank or credit union account in their household who also used a money order, paid a bill through a service, cashed a check, money to family or friends in another country, took out a payday loan or car title loan, or used a peer-to-peer payment service such as PayPal or Venmo, then 48% of American adults – nearly half the population – are said to be underbanked.
There are still other alternative financial services that even this broad definition does not capture, such as BNPL and crypto.
Whether you consider them "alternative," these financial services and the non-bank providers that offer them fill gaps in many consumers' relationships with their banks, or simply provide better versions of the services offered by banks. Bank executives should study these gaps and try to fill them if they want to remain the main provider of financial services for their customers.
Instead of terminology, banks should focus on specific customer needs

Rather than lumping all consumers who use alternative financial services together as underbanked, industry leaders will need to take a more nuanced approach to understanding how people manage their financial lives outside of their banking relationships.

It will be important to understand whether consumers are looking outside of their primary banking relationship to access faster payments or more affordable credit, or services more suited to their lifestyle, and to segment those customers accordingly. By isolating the alternative financial services that their customers use the most, bank executives can more effectively fill gaps in their own services and create, buy, or partner to fill them.